Time to Grab on the Raw material- FerroVanadium
Understanding Vanadium
Steel is among one of the pillars upon which economy of any country withstand. It has been more than a year now steel market has witnessed a downtrend and the imbalance of demand and supply has emerged a fall in economies of developed countries. Trade war between US and China has further fueled up the situation and recovery from downtrend has been stretched.
Down the chain, the raw material market associated with steel making has also seen a fall in the demand. The economies of fast developing countries like India, the GDP has restricted to 4.8% which was projected to be above 7%.
Noble metals has been sold worldwide at premium prices due to rising demand in the US and Europe markets and manufacturers from China benefitted by exporting to the west countries. Now, with the less demand and fall in specialised steel production, the offtake of the noble metals has fallen sharply.
Vanadium alloy productions is segmented on the basis of alloy produced. Ferrovanadium, Nitrovan, Nitride vanadium. Ferrovanadium vanadium accounts for 92% share as per 2018 productions which makes the largest market of vanadium alloy across the world.
Domestic Trends:
Vanadium is one of the element that is mostly used in steel industry and it accounts 90% of global consumption. Ferro Vanadium(FeV) of 80% and 50% grade are mostly use in manufacturing of specialised steel in India. India steelmakers consume ferrovanadium approximately 2800 metric tonnes annually. The current year , the consumption has fallen by almost 40% from the annual trends.
Analysis: Past and Present
Imports from Checz republic for 80% grade FeV done at an average price of USD 22.90 per kg- Basic ( INR-2060 per kg )- CIF Mumbai port in October-19.
If we analyse the global market the major cost driver that accounts the cost of ferrovanadium production shows a fall in the Raw material cost ( vanadium pentoxide-V2O5) in the major markets- Rotterdam – Europe and China. In last one year the prices of V2O5 has fallen by 39.78% and 38% respectively in Europe and China Markets.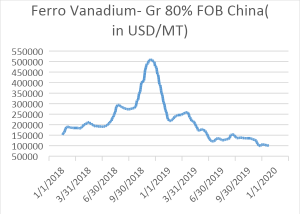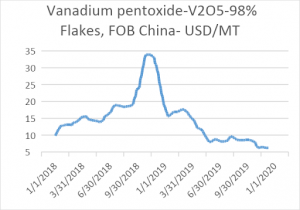 Around a year and half back, the prices of FeV was at its highest levels and availability of V2O5 was limited, immediate orders was sold at a premium rates with deliveries uneven. Companies who had their own resources gained from the market situation and clinched the orders. Small and medium size companies has to gather V2O5 slag and then comply the small orders.
Presently in China market V2O5 is sold at the rate of 96000 RMB/ton plus taxes , which is up by 500RMB/ ton from last week prices.
Due to the trade war with US and China, China is not piling up the stocks and maintaining the price levels . For a 6 months delivery the offered prices are at the range of 98000 to 99000 RMB/ton and applicable taxes.
International and Indian producers( FeV):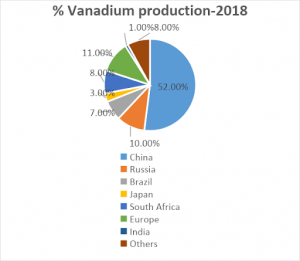 International: ( Top3)
Bushveld Mineral Limited
Tremond Metal Corporation
Bear Metallurgical Company
Indian: (Top 3)
Essel Mining
Premier alloys
Rover ferroalloys
Future Outlook & Trends :
Globally FeV alloy market is expected to attain a value of USD 5800 Million by the end of 2025( INR 4175 Crores) from USD 3,850 Million in 2018( INR 2772 Crores). This growth is at the rate of 5.5% CAGR for the period of 2018-2025 due to increase demand in steel for infrastructural development. US markets is expected to grow at 5% YOY and China is expected to grow at 8.5% YOY for next 3 years.
What to benefit:
Prevailing low prices and the outlook of stable prices for next 6 months timeline is most likely benefit the Indian steel manufacturers. Immediate price escalation is least expected even at the global level. With low orders in hand among the Indian and international alloy manufacturers , it is an even better opportunity to get the online negotiated price for a longer delivery period to grab the maximum benefits.
It is estimated that for 50% FeV supplies and for 80% FeV supplies, the prices from Indian manufacturers would see at a level of INR 965 per kg and INR 2015 per kg respectively.
Recommendation:
Indian steel makers should exploit this opportunity in booking the materials with forward 6 months deliveries through the online competitive price discovery .
Mjunction which has years of experience in procuring FeV for their leading clients ,procuring approx. 1000 MT of 50% grade per annum FeV benefitting approx. savings of 10-12% savings from clients estimates.